Guest Voices: Reflections from Chatham Student Government
Guest Voices is an occasional series that invites students to share their views about a topic of importance and interest to them on campus.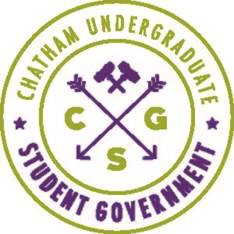 By Members of Chatham's Undergraduate Student Government
---
As Chatham Undergraduate Student Government, we would like to thank those who have voiced their opinions, and we strongly encourage all feedback moving forward. We believe that it's important to listen to all perspectives and be able to come together to work on solutions.
We feel that some communication about our Senate meetings has not been highlighted, so we would like to clarify our overall theme in CSG, such as: working together, including more people into the conversation; recognizing and acknowledging the different goals that our peers bring to the table; and working to integrate global, national and local issues into the Chatham community.
With that, we would like to highlight our steps moving forward and progress we have made throughout this year:
The Class of 2021 has been making great progress with the Gender Inclusivity video that they plan on uploading to the Chatham University website. This video includes Chatham students explaining what it means to foster an inclusive environment on and off campus. The script for this project has also been edited by many students, faculty and staff at Chatham. Class of 2021 has also been having a lot of fun fundraising through food trucks, sledding and more for the Senior Class Gift, which is going to be a picnic table and hammock poles for the Chatham community to use.
The Class of 2022 has just appointed three new members to their class council, and they continue to work on adding diversity and inclusion education to the SDE program that all students must take upon arrival to Chatham. They have met with Assistant Dean Chris Purcell and are working on a letter to propose a list of topics they would like added to the curriculum, as well as a proposal for an additional diversity training session for incoming students. 
The Class of 2022 also plans on sending the letter/proposal by March 1. They also spoke with Kristen Spirl of landscaping for future planning of the senior class project for next semester. The senior class gift for the Class of 2021 is in motion, they are just waiting for the next UBC meeting to see if they can obtain additional funding.
The Class of 2023 has just appointed one new member to their class council. They have been meeting with Assistant Dean Purcell to share ideas for implementing a module for race and diversity training in SDE. They are planning to partner with Class of 2022 to see how the two projects can align. The Class of 2023 is also working to set up a connection with the Children's Institute in Squirrel Hill to see what sort of partnership they can form to create community events for students to engage in.
The Class of 2024 is working to provide free menstrual products in the restrooms on campus. Seeing that period poverty is an issue that is rarely talked about, yet prominent among college students, they hope that this project will enact positive change for the student body. The Class of 2024 is also working on sending out a poll for students to provide feedback on period poverty, and how this project would help/benefit them. 
They are also planning on reaching out to various clubs and organizations on campus to try and gain support. Once they get the results of the poll, they plan to write a letter about the project and present it to Health Services by the end of March.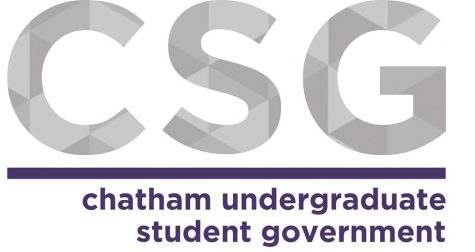 As each class has taken on a project, individuals within CSG also work on other initiatives and solutions to the concerns that students express. Representatives from CSG meet with Parkhurst employees to ensure that students' dietary needs are met, and any student questions or concerns are brought up and answered. Representatives continue to meet with Chief of Police, Valerie Townsend; Assistant VP of Facilities Management & Public Safety, Bob DuBray; Vice President of Finance and Administration, Walter Fowler; and President David Finegold to voice any and all concerns that the student body has voiced throughout the year. These meetings also consist of giving common feedback based on what students like or do not like on campus, certain feelings about policies in place, new additions to Chatham and more.
To summarize some initiatives of the executive board, in addition to helping with some of the class projects, they have been working on meeting with several student organizations to help give them any needed support. This entails working on ways to engage with students on and off campus and helping allocate funding needed for events, etc. The executive board has also been working on running committees and updating the CSG website and social media, as a better way to connect with the student body.
We are ready to move forward in collaboration with everyone, and believe healthy debate and dialogue can lead us to great solutions. By working together, we can come up with solutions in creative and effective ways. We can only solve problems that we know about, and so we strongly encourage members of the student body to reach out to us about their needs, problems and struggles. We strive to serve the student body in any way that we can; we are here for the Chatham community.
If you would like to contact any member of CSG or are interested in joining any of your peers on their projects, you can find contact information and information about CSG in general on our website at www.chathamstudentgovernment.com.
---
Written by Executive President of CSG Mars Touloumes 
Collaborating writers:
H.R. Liotta: Executive Vice President
Caiti Worwood: Class of 2021 President
Hannah Perry: Class of 2023 Representative
Andrew Greco: Class of 2021 Vice President
Emi Perdan: Class of 2024 Treasurer
Phillip Hingston: Class of 2024 Representative
Addakin Thomas: Executive VP of Communications
Alexis Gonzalez:  Class of 2021 Representative
Lalah C. Williams: Executive VP for Student Diversity & Inclusion
Zach Mayan: Class of 2023 President
Guillermo Van Wyke: Executive VP of Finances
Molly Yowler: Class of 2024 President