Senior spotlight shines bright on hockey captain Ashley Marchant
Orange County, California native Ashley Marchant is looking to build on the women's hockey team's best season since her career began as a Cougar. Last year, Marchant picked up five points in only six games played. 
She was on pace to break the single-season record for points for Chatham as a defenseman. However, her strong start was abruptly cut short due to knee surgery. While Marchant's season was limited to only six games played, she broke her own record for points in a year. Since her surgery, she has followed her recovery regiment and has done everything asked of her to make her way back to the ice. 
Marchant wants to compete; she is determined to have her final season. While she is not cleared yet to play, Marchant said she is on track for clearance in time for the season. 
When Marchant learned about Chatham, she didn't have high hopes.
"I didn't know the school existed," Marchant said. However, as she was being recruited, Marchant stepped on campus for the first time and "fell in love."  
While not much success has followed the women's hockey team in the past, it has started to turn the program around in the last few seasons. Marchant attributes the players' dedication and new head coach Mike O'Grady to that recent success. 
"We don't just want to be a Division 3 program. We want to be a competitive Division 3 program."
Marchant strives to leave things better than how she found them, and that's exactly what she is trying to do at Chatham. 
"Our goal is to always make the playoffs and to do better," said Marchant, when asked about her team's goals for this upcoming season.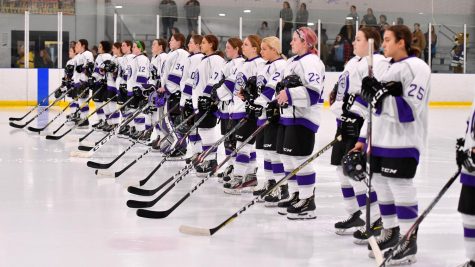 Marchant characterizes Chatham women's hockey as relentless. "We had to go through [not doing well for years] to be able to be where we are now. We continue to have that same attitude. … We keep building." 
Being a senior, Marchant now has a plethora of knowledge that she didn't have when she first arrived on campus. When asked what advice she would give her first-year self, she said, "Get involved. … Chatham offers a lot of opportunities for really whatever you are interested in." 
Since the age of 13, Marchant has dreamed of being a pediatrician. She doesn't want to look too far ahead, but after a year to get her applications ready, she plans on going to medical school and continuing to work toward her dream.  
The women's hockey team is about to begin its 25th season. Students can support Marchant and the other three seniors as they have their first home game Friday, Nov. 5, at the Pittsburgh Ice House. 
---
Do you know any senior student-athletes who want to be featured? Email [email protected]