Tee up for lessons in Chatham's golf simulator
With spring comes blooming flowers, sunshine and green golf courses. Tucked away in the back of the gym is Chatham University's most under-utilized activity, golf lessons in the Athletic and Fitness Center (AFC) golf simulator.
"It's a software and it's really neat because you can play different courses or you can just practice," said instructor Lucas Tavares Naief '24. 
The golf simulator was gifted to Chatham in 2018 by Schenley Park.  Players hit balls off a rubber mat that simulates a normal flighted shot on a course. The shot appears on a screen with a sensor, and players can see the results of their swing.
Tavares Naief started offering free golf lessons at the beginning of the semester. He is a self-taught golfer and golf instructor who enjoys teaching just as much as playing.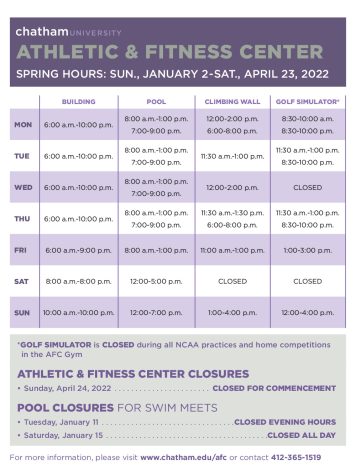 "As a golfer, there are few things that are more satisfying than hitting a nice golf shot," said Tavares Naief.  "To see them [students] have their first experience where they are so happy with what they did I think that is like the best thing for me. That is what gets you addicted to a sport."
All students are welcome to take lessons, regardless of skill level or background. Tavares Naief believes that golf is for everyone. 
"It is a lot more fun because there is a lot more diversity, especially with newer players, we are trying to promote that as well. You don't have to be athletic to play, you don't have to have played golf before," said Tavares Naief.
 Anyone can take lessons to learn a new skill, or just to come and have a good time with friends.
"If they [students] want to learn the game and really improve, I think it is really productive to do one-on-ones," Tavares Naief said. "If they want to have more fun and mess around, they can come with their roommates and friends."
Sofia Caloiero '24 took lessons with her roommates for fun and to learn a new skill. Caloiero ended up competing in the intramural competition and won a gift card.
"I have always been very impressed by people who can play golf. He's [Tavares Naief] a great teacher, very patient," said Caloiero.
Students who want to take free golf lessons using the simulator can contact Tavares Naief via email [email protected]. These lessons are par for the course.