Chatham Student Power to hold annual sustainable fashion fair, set to be largest ever
As the snow turns to sunshine in Pittsburgh, spring wardrobes might need some remodeling, and the sustainable fashion fair is just the event to do it. The event, hosted by Chatham Student Power (CSP), will be in the Mellon Board Room on March 25 from 7 – 10 p.m.
The Sustainable Fashion Fair started a few years ago and has come a long way since.
"We're taking what we learned from the first two fairs and kind of applying it to what we're doing [this year]," Morgan "Moe" Williams '22, CSP co-president said.
Williams, who was a part of starting the first sustainable fashion fair, has seen the event develop over the past few years.
"It's looked different each year," she said, "and it's even going to look different this year."
Along with the clothes in the Mellon Boardroom, a variety of  Chatham students and student organizations are participating in the fair as well.
"Downstairs will be where all the clothes we collected," board member Rachel Lloyd said, "and upstairs will be the artists and organizations that are featured."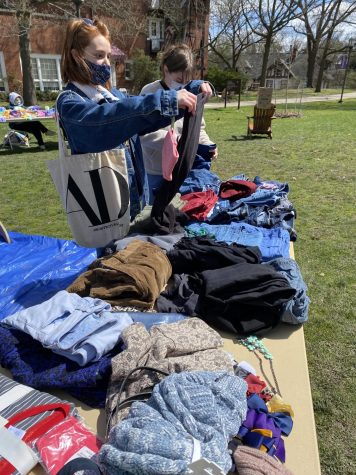 CSP officer Frances Hurst Brubaker '23 contributed significantly to this year's fair, as well, being one of two officers who helped hold all the donations in their apartments until the event.
"We've had a lot of donations this year," Hurst Brubaker said. "It exceeded my expectations for how much space we would need to store all the donations."
Attendees can expect to see hundreds of clothing items at the fair, and even some items that aren't.
"There's even stuff that isn't necessarily fashion that I was really excited to see," she said. "We got a lot of book donations and I thought that was pretty cool."
The fair is not something to miss out on, and it's a great way to stay involved in the Chatham community and be environmentally conscious.
"The sustainable fashion fair has kind of become our annual major event as a club," Hurst Brubaker said. "We can really have a ton of student engagement both behind the scenes and at the actual event."