Despite recent gunshot reports near Graham Field, Chatham assures the safety of students and staff
Chatham University and Wilkinsburg police were called to Graham Field in Wilkinsburg approximately multiple times in recent weeks to address distress calls from sports teams. A couple of these cases involved investigating reports of what sounded like gunshots.
Despite these reports, Chatham officials assure the University community that protocols are in place to keep everyone safe.
"Whenever there is an issue at any of our facilities, I always tell our coaches to just call the police," said Chatham University's athletic director Leonard Trevino. "At Graham Field, the Wilkinsburg police are two minutes away from the field, and it is always better [to be] safe than sorry."
On Feb. 18, the men's lacrosse team was practicing at Graham Field when student-athletes heard what sounded like gunshots nearby. The team was escorted to the locker room while the police were called and the situation was investigated. Both Chatham and Wilkinsburg police found nothing at the time, and the team was able to continue practicing.
On Feb. 20, officers responded to another call of gunshot reports near the field. When they arrived, the players were in the locker room and the gate was locked. Again, nothing was found, and the players continued with their practice.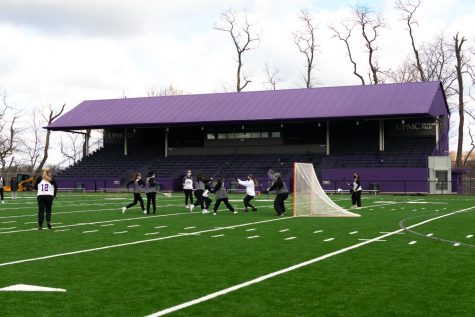 "We have never found anything at Graham Field. When people have said that they have heard shots at the field, it's turned out that they've heard shots in the distance," Trevino said. "We have a safety protocol in place at all times for our athletic teams."
Chatham's safety protocol for athletic events includes a medley of actions to be taken by the staff. During practices at Graham Field, the gate is locked in order to ensure that nobody unaffiliated with Chatham is able to enter. This rule was enacted after an incident with the men's soccer team when a person walked onto the field during practice and tried to interact with the players.
"Before we locked the gates at practice, people would just come on the field and try to talk to us," said soccer player Marco Piccolo '23. "That's really the only time I have felt unsafe at the field."
Officers are present at every Chatham sporting event in case of emergencies. Wilkinsburg police are also present at games that take place at Graham Field, along with Chatham police. There are also safety protocols in place for fans and teams, particularly related to extreme weather. 
"There are no immediate threats to Chatham staff or students at all. You never know what can happen. It's good to have a protocol in place to keep our students and fans safe at all times," Trevino said.
Despite the increase in police visits in the last month, the teams that utilize the field have remained largely unaffected by the occurrences and are continuing to focus on their competitive seasons.
"The events have not really affected me or my team too much," Piccolo said. "We mostly just joke about it."In the event of an emergency, Chatham Public Safety can be reached at 412-365-1230. For a summary of Chatham police's incident reports from the month of February, visit the Communiqué police blotter.