Chatham welcomes Edith Barrett as new dean for School of Arts, Science and Business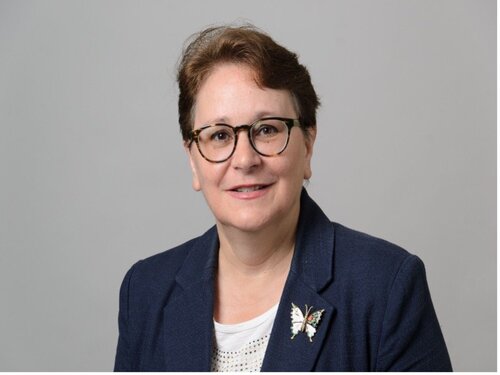 Chatham University's School of Arts, Science and Business welcomed this academic year Dr. Edith Barrett as its new dean. Her mission at Chatham is to bring experiential learning to the campus to help students get a well-rounded and meaningful education.
She has lived in Pittsburgh since Aug. 1 and is already loving the people of the city, who are "unbelievably friendly," she said. 
Dean Barrett completed her undergraduate degree at Baylor University and earned her master's degree and Ph.D. in psychology from Northwestern University. Her favorite memory during her undergraduate years was when she took a statistics class, which led her to become a psychology major. She then continued to do further statistical work with the professor and appreciated that one-on-one time during her education. 
"My fondest memory of the years as a student was getting to work with a professor," Dean Barrett said.
Dean Barrett's career path led her to Chatham after spending four years as associate dean at the College of Liberal Arts and Sciences at the University of Connecticut. She found that the size of Chatham eases her ability to make a difference for the students, faculty and the institution.
 "I was looking for a dean position where I could make a difference," Dean Barrett said.
Dean Barrett said that the day in the life of a dean may bore students because it consists of many in-person and Zoom meetings, as well as analyzing data and statistics. She uses these statistics to see what is going on at Chatham.
When asked about her philosophy on education, Dean Barrett explained that she wants students to be prepared for "a lifetime of careers." She shared that many people's first jobs out of college might not be their jobs for the rest of their lives – but they will bring them to the next stages in their careers. 
"Students walk away with more than a skill but also an understanding of the environment they live in, the people, the places and the spaces we all live in," Dean Barrett said.
Experiential learning is a big part of that.
"I live and breathe experiential learning," Dean Barrett said.
Barrett discovered her connection with experiential learning during her time at the University of Connecticut as the director of urban and community studies. Dean Barrett based this program on experiential learning.
 "You can't understand cities unless you really get out into the streets," she said. She then became a strong proponent of learning through experience at that level and continues advocacy for it here at Chatham.
Dean Barrett is currently working to expand Chatham's experiential learning and service-learning programs. She finds that experiential learning puts together all the pieces of what students learn in the classroom through hands-on experiences, such as laboratory experiences or working with a nonprofit or agency.
As for her other plans for Chatham, Dean Barrett said she wants to ensure students can get the classes they want when they need them. She said she wants to "keep the curriculum alive" to fit the needs of the students and the institution.
Finally, the dean shared some advice for the students, which is to take a variety of courses in their undergraduate years – including ones outside of their comfort zone.
Dean Barett wants students to know that she is approachable and that if there are ever any issues, students can feel free to visit her office on the second floor of Braun Hall. She said that she wants to hear the students' perspectives on how she can help make Chatham a better place and their ideas for how to strive to do so. 
Check out future Communiqué coverage for more profiles on other people who joined Chatham University this academic year.