10 Taylor Swift Songs as things at Chatham
At Chatham University, we champion three things: sustainability, inclusion and Taylor Swift. This may be due to the demographic overlap of Swifties and Chatham students, or that we simply have outstanding taste in pop icons. 
Swift is dominating radio charts with her recent album "Midnights." In recognition of this and of Swift's popularity within our community, here are 10 things at Chatham that just might have inspired her tracks.
*The photos in this story are altered, and Taylor Swift has not visited these places at Chatham*
'August' – Well … August
Whether you are a first-year, transfer or returning student, you've likely experienced the anxiety and excitement-filled feeling of starting a fall term at college. After a long summer filled with vacationing, hanging out with friends or working a part-time job or internship, the encroachment of new classes, assignments and classmates makes many feel as though their summer "slipped away into a moment in time." This soft and dreamy "Folklore" track perfectly encapsulates the feeling of optimistic dread associated with the back-to-school month of August.
'You Need To Calm Down' — Yoga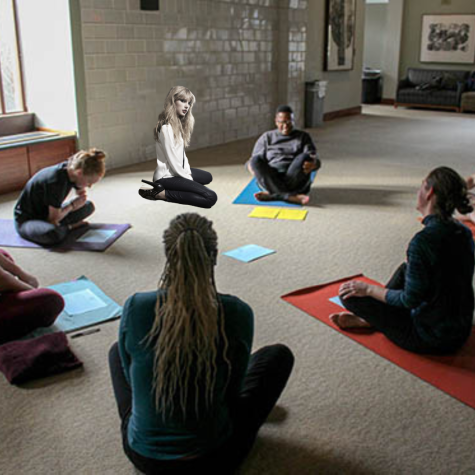 Ah, the infamous Chatham wellness requirement. Luckily, students here are not forced to relive bad high school gym class memories as Chatham offers a wide variety of physical health and exercise courses that fulfill wellness credits. 
One of the most popular offerings is yoga and relaxation at both Shadyside and Eden Hall campuses. If Swift demands you to "calm down," you might as well knock out a gen-ed course while doing so.
'Haunted' – Chatham ghosts
This seminal track off of "Speak Now" is one of Swift's grungiest pop hits. Bone-chilling lyrics about heartbreak make us think the girl has seen some ghosts. In this regard, she is not unlike many Chatham students who have reported ghoulish sightings on campus.  From the lingering spirit of Andrew Mellon to Woodland Hall's Blue Lady, it's possible even Chatham's apparitions are Swifties!
'Karma' – The Seal in front of the Athletic and Fitness Center
It is a well-known superstition that this cemented logo of Chatham history is to be avoided while walking. The rumor goes that if you disrespect the seal by walking on it, you will be cursed with the fate of graduating late, or worse, never graduating at all. 
Luckily, Swift has never made the dire mistake of tromping atop this University landmark, and to her, the "karma" from this act is a "relaxing thought." If you follow the wisdom of past students, there is no need to be envious – just make sure you remind your boyfriends and cats to watch where they're walking.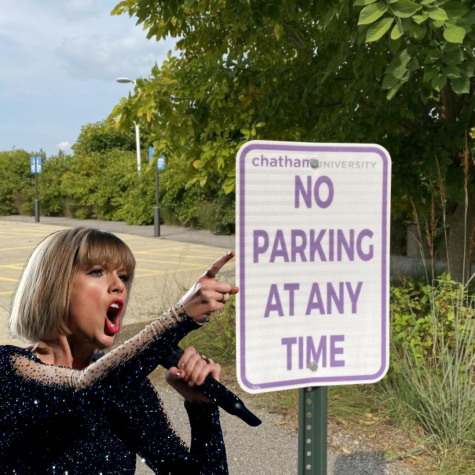 'Labyrinth' – Parking
You might think the obvious choice for this song is Jessica's Labyrinth in front of Berry Hall, and it is. However, Jessica's Labyrinth is a beautiful, calming maze, as opposed to the hectic, frustrating puzzle that is parking on campus. From being unable to find spots to the number of student fender-benders, we could probably all use some of the deep-breathing exercises Swift suggests in this song.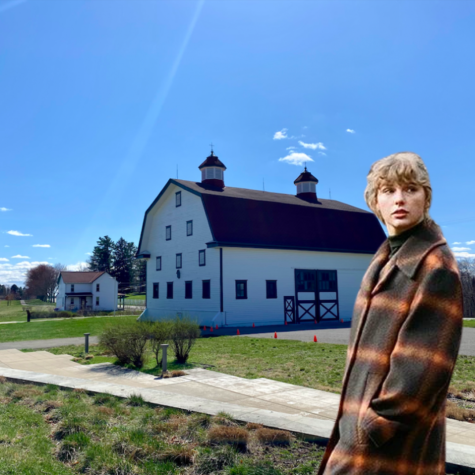 'Out of the Woods' – Eden Hall
Chatham University's 388-acre Eden Hall Campus is home to the Falk School of Sustainability and Environment and many students and faculty who love nature. Classes in the Falk School feature experiential learning in the forest of Eden Hall. This "1989" synth-pop banger is a great outlet for Falk students in rigorous courses, research and field work asking the question, "Are we out of the woods yet?"
'Tolerate it' – Parkhurst Dining
We all know that Parkhurst has faced criticism in the past from students who felt let down by the lack of quality and options of dining on-campus. With issues like high prices and improper food safety, students feel as though they are being ignored and taken advantage of. 
However, the newly-renovated Anderson Dining Hall and ever-hospitable employees have given Parkhurst a better reputation. The food on our campus should be celebrated, so why just "tolerate it"?
'Anti-Hero' – The Shuttle
Free transportation between campuses has its flaws, and the Chatham shuttle system is not necessarily known as good 'ole reliable. Students with tight schedules or carsickness can find the irregular arrival times and bumpy drives problematic. Just like Swift, the shuttle provides Chatham students a valuable service, and despite some flaws, we are totally rooting for them.
'Dorothea' – Rachel Carson's Secret Lover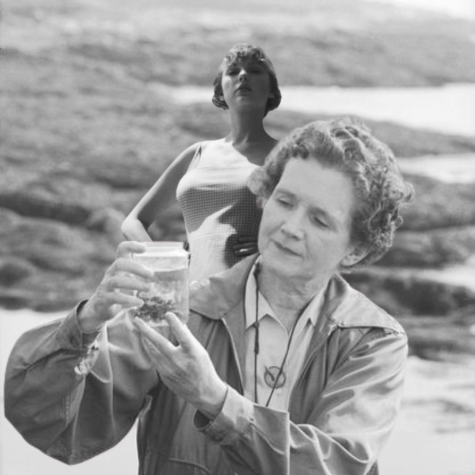 Did you know that Chatham's most esteemed alumni, environmentalist and author Rachel Carson, was a queer woman? If you look hard enough, you can see an image of Carson with a neighbor and pen-pal Dorothy Freeman in Café Rachel. 
History may suggest that they were "close friends," but a series of love letters between the two authors demonstrates their closeness was sapphic in nature. If Spotify and Carson were around at the same time, she would have had "Dorothea" on repeat. 
'22' – Class of '22 Graduates
This one is for all of the Chatham students graduating at the end of this term. You better be blasting this song at commencement on Dec. 17 – four days after Taylor's birthday! 
Swiftie or not, you made it! You are officially a Chatham University alumnus. Taylor Swift and the entire Chatham community is proud of you for making it this far. Now you're on your own, kid!