Rea Coffeehouse concert brings students from across Pittsburgh to Chatham
The Rea Coffeehouse has seen a resurgence since the return of students post-COVID-19 shutdowns. The growth has transcended past the reach of Chatham University and has seen students from universities travel to hear the musical inclinations of college bands. 
The most recent concert on Jan. 13 landed on the Instagram page of Pittsburgh Music Tracker which has over 2,000 followers.
Recent University of Pittsburgh graduate Simon Joseph shared that the "Pittsburgh Music Tracker put this show on their concerts for January 2023, which is super exciting because that's like that's like where I go to know where all the [house shows] are."
While Joseph attended this concert to support his friends performing, he believes that getting shows on Pittsburgh Music Tracker is an excellent way for these shows to continue to grow. 
The Rea Coffeehouse Committee oversees events happening in the coffeehouse and left pieces of paper around the venue for people to check off what schools they attended. A total of 58 people responded, and 36 were non-Chatham students
The eclectic space showed some of the hidden beauty and history located at Chatham.
"I think it's rather exclusive because Point Park's more of like city dwelling and nobody has [a place] like this," said Point Park student Toni Keller.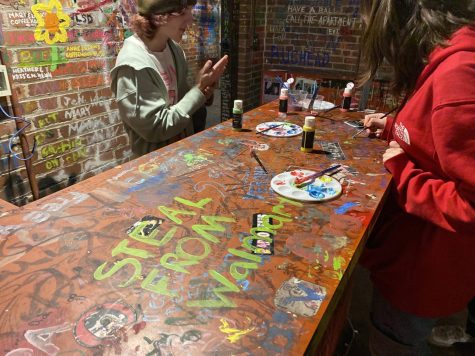 Rea Coffeehouse President Leelin Bowser '24 is pleased with the growth so far but has his eyes set on bigger things.  
"The more shows that happen, the more new artists that play their stuff, the bigger any signal gets boosted ours or any other venue the more people get a chance to strut their stuff and more people get a chance to help them to do that, that's really good," said Bowser. "We'd like to have more shows at least one every month, but I think that the crown jewel would be some sort of festival near the end of the year. Not just for the coffeehouse, but for all the arts and clubs.
Bowser wants to get as many people in as possible. However, there are safety concerns that are prohibiting more growth. No fire extinguishers inside, and leaky pipes are a concern for the Coffeehouse Committee.
Rea Coffeehouse Committee member, Ryan McFarland, believes some cosmetic improvements are needed for a better experience. 
"It seems like the pipes need to be redone because there's some water leaking everywhere and lights are flickering," he said. "It just needs a little bit of love." 
"You want to keep that character here, but you also want to make sure that people who are coming here are safe," said McFarland.