Lightning Rod: First concerts of the year happen at Rea Coffehouse
The grungy, grimey graffiti-covered walls of the Rea Coffeehouse remained unseen for who knows how long. It was once an actual coffee shop on Chatham University's Shadyside campus and then turned into a venue for concerts and raves in the 1990s, until it was shut down for decades. 
During its lull, the space continued to host club activities and small events scattered throughout the school year. In April 2022, Chatham bands Your Moms House and Vienna Girls Club performed the first live show in the Coffeehouse in what felt like forever.
The small environment of Chatham doesn't have the space for local performances. So, a group of students got together to change this and called themselves the Coffeehouse Committee.  Leelin Bowser '25, Benji Keeler '25 and Ryan McFarland '24 are the current officers, alongside many other members dedicated to bringing the local music scene to Chatham. It doesn't get more local than the basement of one of the houses on campus.
"Chatham doesn't really have a place to accommodate [independent shows]. It's mostly organized performances like the jazz band and whatnot. So we want to give student bands, singers and songwriters a chance to perform," said Bowser, the committee's president. "We just like the Coffeehouse space so much – it's punky and grimey, so we chose here."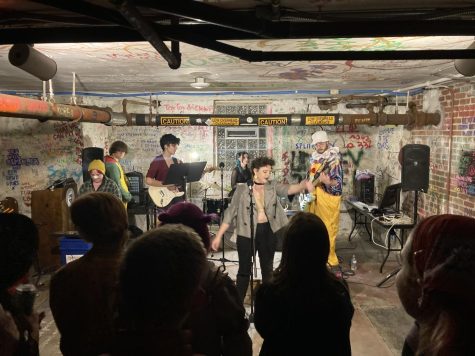 Oct. 28 was the first performance hosted by the Coffeehouse Committee. When asked why begin now, Bowser said, "I don't know, when I got the idea, [having] Halloween for the first show sounded like a good idea. I mean, is there ever a wrong time to start a band or start accommodating for music?"
There was an extensive lineup for the first show: Twin Lakes, Evelyn, Your Moms House, Disuko, Vienna Girls Club and The Rotting Fruits all performed. 
Keeler, the frontman and guitarist for Vienna Girls Club, started the group in his junior year of high school. Keeler takes heavy inspiration from the Pittsburgh weirdcore artist Jack Stauber, as well as Surf Curse and The Killers to create his own art. He started writing songs for Vienna Girls Club long before they started performing as a group, and it really only picked up in recent months. 
Collaborative efforts are really important to the overall dynamics of a band. Twin Lakes members Simon Joseph, University of Pittsburgh graduate, and graduate student Julia Bingler know this first-hand. The two make up the indie acoustic duo and formed Twin Lakes in December 2021. They got together to start writing music, and they quickly found how easy it was to work together.
"I'm in the Chatham grad program so I don't come over to the main campus very much, but I'm just really excited to be part of it and get to know people," Bingler said.
This was Twin Lakes' first performance in front of an audience of people they didn't know, and the two were eager to put themselves out there. They released an EP this year titled "Another Year of This" on Spotify, with the group's personal favorite song "Burning Down the Woods."
As I always do at the end of band interviews, I quote "Almost Famous" with the question, "What do you love about music?"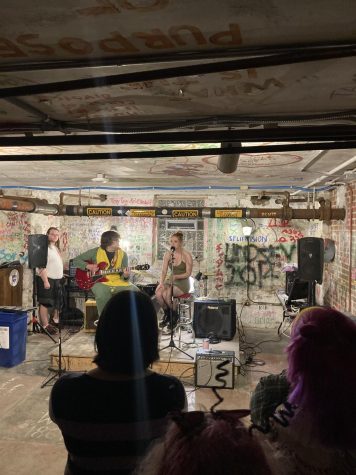 "It can be all kinds of things. It can be the saddest thing you've ever heard, it can be the most hype thing you've ever heard," Joseph said. "It's just this whole encompassing thing to express emotions."
Bingler added, "I think it's just really cathartic. If I'm feeling upset, then it's just a way to let it out in a non-destructive way."
You can follow the groups on Instagram here:
https://instagram.com/chathamcoffeehousecommittee
https://instagram.com/viennagirlsclubclub 
https://instagram.com/twinlakespgh 
https://instagram.com/disukomusic