Chatham Student Power holds its fourth annual Sustainable Fashion Fair
Pittsburgh may have just hit a second winter this month but that doesn't mean you can't look fashionable in the cold. Chatham Student Power's (CSP) annual Sustainable Fashion Fair is making its return to Chatham University on Friday, March 24 from 4 to 7 p.m. 
Students can expect to see the Mellon Board Room and Carriage House flooded with donated clothes and artists' tables for what CSP Co-President Aidan Bobik '25 describes as a "thrifting extravaganza." Every clothing piece is $1 and student artists will be selling their work at the event. 
Students are encouraged to donate unused clothes at one of the drop-off dates and receive up to $10 worth of credit that can be used to purchase clothes at the fair. The last drop-off date before the fair is on Thursday, March 23, noon to 4 p.m. in the Carriage House. Students can also drop clothes off at the fair, but they will not receive credit. 
The goal of the fair, CSP Co-President Will Grasso '24 said, is to reduce textile waste and encourage students to participate in a slow fashion industry that prioritizes ethical consumption. Leftover clothes will be donated to a charity selected by votes from followers of CSP's Instagram, @ChathamCSP.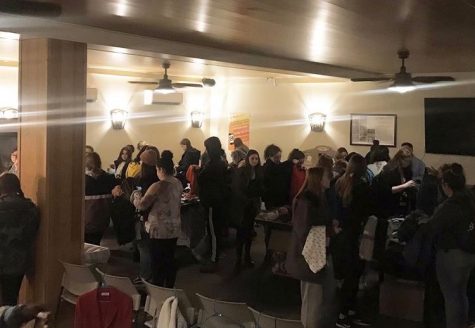 The Sustainable Fashion Fair is one of the largest student-run events at Chatham, and it's a responsibility that CSP doesn't take lightly, Bobik said.  
"There's one student who came up to us at the engagement fair," Bobik said. "And they were like, 'oh, my gosh, the Sustainable Fashion Fair, that's one of the first things I heard about Chatham.' And so, you know, it's becoming truly a Chatham tradition." 
But the fair has come a long way in its four-year history.
The annual event began in 2020 as a collaboration between Chatham Student Power and Chatham Á La Mode in hopes of extending the University's commitment to sustainability to the student body's clothing purchases.  
The location has shifted over the years, but it started out as a two-hour "thrift and thread" event in the Carriage House where students could both purchase new clothes and fix old ones at a mending station.  
In its second year, the fair was held outside on the quad at the Shadyside Campus and CSG Officer Frances Hurst-Brubaker '23 had to fight the windy weather to keep the clothes clean. 
"It was muddy because it was early spring, so we had tarps laying down. And then we had the clothing racks standing on top of the tarps and then they kept falling down," she said. "A lot of the time that I was volunteering for those four hours was [spent] running around and making sure that all the clothes got picked up…and making sure that anything that…got dirty was set aside so we could wash it before it was donated."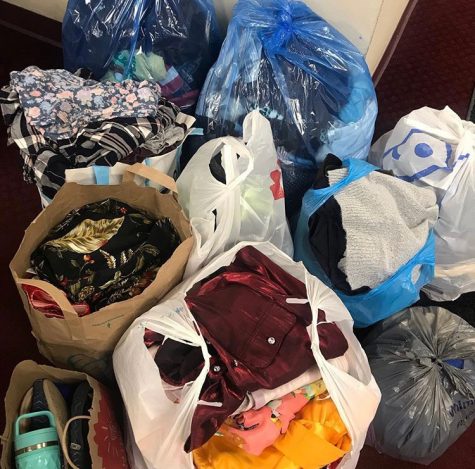 Hurst-Brubaker has been involved with the fair since her first year at Chatham and has even kept some of the clothes in her apartment when CSP struggled to find spaces to keep all the donations before the fair. This year, Facilities has given CSP a temporary space to keep the donations.  
Both Grasso and Bobik are new to their positions as co-presidents. For them, figuring out how to run such a large event brought its fair share of troubles. 
"Finding a place to keep the donations and just figuring out how to coordinate that was definitely a big obstacle," Grasso said. "It's definitely been a lot of work to get everything organized and I've never really been in a position of leadership before in this capacity." 
After this year, Bobik hopes for even more collaboration moving forward into the 2024 Sustainable Fashion Fair. 
"The student artists is a newer thing that has been done and that's great, how can we expand that? The Coffeehouse Committee has been doing interesting work with live music, possibly that's something we could integrate in a future year," Bobik said. "Looking forward [we ask ourselves,] 'how can we improve?' How can we get more involvement and reach different kinds of student organizations and groups?'" 
If students want to volunteer to help with setting up and cleaning up the fair, email [email protected] or message @ChathamCSP on Instagram.