Foodie on the Half Shell: Warm up this fall with a toasty tostada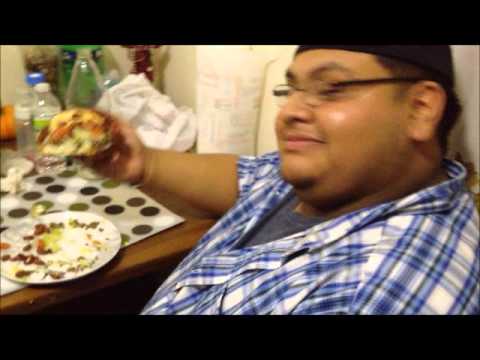 What we have today is a crunchy and spicy shrimp tostada. Tostadas can be made with pretty much anything, but they usually have some beans, cheese, and veggies on top. The shell is crunchy, and usually flat, and then it is piled high with ingredients of your choosing.
The only downside to tostadas is that they are so hard to eat! I tried using a fork and knife, but that didn't seem right, so I actually looked it up online. Go to this Youtube video, and learn how to eat a tostada before you make them! This guy's technique was not only funny, but seemed legitimate.
The word tostada means "toasted" in Spanish and is a Mexican food that you can get at almost any Mexican restaurant you go to in the United States. A lot of food from Mexican restaurants in the US is very heavy, and full of beans, cheese, ground beef, and sour cream. Although, that is delicious, it's just not that good for you, and a lot of authentic Mexican food isn't actually like that.
I've been to Mexico twice, and I've been to the Southwest a lot, so I have had my share of all kinds of styles of Mexican food. I have to say that my favorite type is the coastal style from the Yucatan Peninsula.
I've never been to the Yucatan Peninsula, but I have tried their style of food, and it is very fresh and unlike the burritos and nachos that most of us are used to. They use ingredients like avocado, oranges, plums, and seafood.
I was inspired by the freshness of the Mexican food I know and love, and also by the crunchy tostadas we can get from our own Mexican restaurants around us. This tostada is not deep fried; only lightly pan fried and then put into the oven to crisp up. This will save you calories and fat from the useless amount of oil from deep frying. By using shrimp instead of the usual ground beef, you are saving yourself from saturated fat and cholesterol. Shrimp is lean, and still gives you a great amount of protein.
What you will need for 5 tostadas:
1 pound of uncooked shrimp
5 small corn tortillas
1 can of refried beans
1 bell pepper
1/2 large onion
1 1/2 cups of cheddar cheese
1 chopped large tomato
1 head of chopped romaine lettuce
1/4 cup of cilantro
2 tablespoons of chili powder
1 tablespoon of cumin
2 tablespoons of chipotle pepper powder
2 tablespoons of honey
1 juiced lime
salt and pepper to taste
Sunflower oil or veggie oil for pan frying the tortillas
2 tablespoons of olive oil
To fry the tortillas, add two tablespoons of oil into the pan and make sure it is hot. Add the tortilla and let it fry for two minutes on each side. Put the finished tortillas on paper towels to get rid of excess oil, and then pop them into the oven around 350 degrees to keep them crunchy and not soggy.
Clean the shrimp, and take their tails off. Marinate them in half of the chili powder and half of the chipotle, with the honey, lime, olive oil, and some salt and pepper. Sauté them in a pan until they are cooked thru, and then chop them into little chunks to put on top of the tostada when ready.
Put the bell pepper and onion into a pan, cook them until they are sweating, and season them with salt and pepper and some extra chili powder if you desire.
Cook the beans and add the rest of the chipotle, cumin, and chili powder into them. Spread the beans onto the crunchy tostada, add the sautéd veggies, and sprinkle on the cheese. Broil them on low, and take them out when fully melted. After you take them out, add the chopped lettuce, tomatoes, shrimp and cilantro. Add salsa, lime, or hot sauce to top it off.