CSG Brief: Senate moves forward, starting with diversity presentation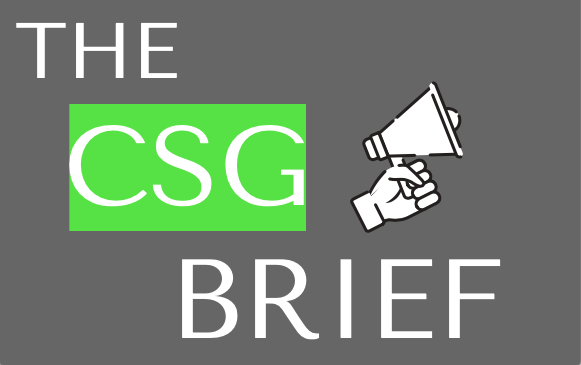 The first half of the Chatham Student Government meeting on Feb. 4 was dedicated to discussing the recent Communiqué article about the Jan. 28 CSG meeting, when four members resigned. Some representatives expressed frustration with the story, calling it "biased" and "rude."
Andrew Greco '21 wrote in the Zoom chat, "Honestly, I feel like the article was written to get a rise or reaction." 
While some students agreed, others did not. 
Rachel Parente '24 spoke at the meeting, saying she saw the article as neutral and wrote in the Zoom chat, "If you don't want it written, maybe don't say it." 
Many, like Executive President Mars Touloumes '21, wanted the student body to know that CSG members were now "moving forward, stronger together." And that the conclusion of the Jan. 28 meeting was that CSG was going to "think globally, but act locally." 
An email sent by Lalah Williams '22, vice president for student diversity and inclusion, after the Jan. 28 meeting, was recently shared with the Communiqué. In it, Williams echoed Dean of Students Heather Black's sentiment that "Now that we've identified the problems, we can work on solutions."
The article also sparked concern from CSG members who did not want to be quoted. While meetings are open, CSG members will not be quoted if they specify a request to remain off the record before making a statement. 
By the end of the discussion, HR Liotta '23 told fellow CSG members to remember the Chatham Student Government Community Standards, since she felt the conversation was turning "hostile." This is the second meeting that CSG member conduct has been pointed out. 
Office of Diversity & Inclusion presentation 
Dr. Randi Congelton, Assistant Vice President of Diversity, Equity & Inclusion, began her presentation at noon. It focused on the progress her office has made in response to an open letter written by Chatham's Black Student Union, Chatham Student Power and BIPOC contributing students.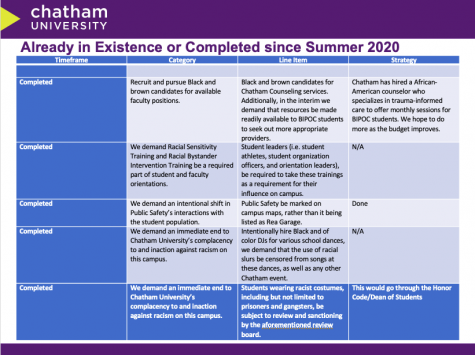 The Office of Diversity, Equity & Inclusion has been working to meet the demands in the open letter, which asks the university to "address its violent colorblindness." Some of the office's completed projects include required racial bias and bystander intervention training for student leaders. The University has also hired an African-American counselor, and Public Safety has been marked on campus maps. Other projects are either being actively worked on or are still being planned for the future. 
For more information, students can download the presentation slides. They may also contact Dr. Congelton (@[email protected]) or Williams (@[email protected])  
Additional updates
Other small updates from the meeting came from Dean Black, who said that the second round of the Coronavirus Aid, Relief, and Economic Security (CARES) Act funding would be coming soon. Additionally, Executive President Touloumes mentioned that CSG wanted to speak with University President Dr. David Finegold and follow-up with Athletic Director Leonard Trevino in the coming weeks. 
There have been some updates, as well, to the CSG website, including those who hold new positions and the new Zoom link for meetings. 
There will be no meeting on Feb. 11 due to the University-scheduled respite day.