Wi-Fi issue on campus solved, but IT continues work to improve network
Students and faculty have experienced issues with Chatham University's Wi-Fi on all campuses since the start of the fall 2021 semester. According to Paul Steinhaus, chief information officer and director of Chatham's Information Technology (IT) Services, the main problem causing the connectivity issues has been resolved, but IT will continue to improve the network throughout the school year. 
Steinhaus said that IT staff have been working "seven days a week" since the start of the semester to fix the connectivity issues. 
"We started getting tickets, really, at the start of classes," Steinhaus recalled, claiming the problems with Chatham's network didn't come to the surface until there was a large amount of user traffic on the network. This semester, Chatham welcomed its largest first year class ever, and more students are on campus than have been over the last two years. 
On Aug. 16, due to a power outage, the core router at the Eastside campus did not reboot on its own. This corrupted the routing table, a part of the router that stores information about the paths network communications can take to reach their desired destination.
The corrupted routing table was affecting the network traffic from Eastside to the other campuses. After IT fixed the router, the staff believed the connectivity issues would improve but soon learned the problem was more widespread. 
"There would be classes of 12 students that would all of a sudden disconnect," Steinhaus said, "and we could not figure out what the problem was."  
IT worked with multiple outside groups and spoke with other local universities to unearth the root of the problem throughout September. Early on, they noticed the problem was disproportionately impacting Apple products.  
This made IT believe the problem was the difference between Apple and Chatham's communication protocols. The department then modified the wireless configuration to accept Apple's specific protocol. Again, IT believed the problem was fixed, but it was not. 
"We would get most of our notifications Monday, Tuesday and Wednesday. And then, we'd make changes on Thursday and Friday, and we wouldn't get any issues. So we thought, 'Oh, the change that we made on Wednesday fixed it.' And all of a sudden, Monday would come around, and boom, we would get a bunch of tickets again," Steinhaus said.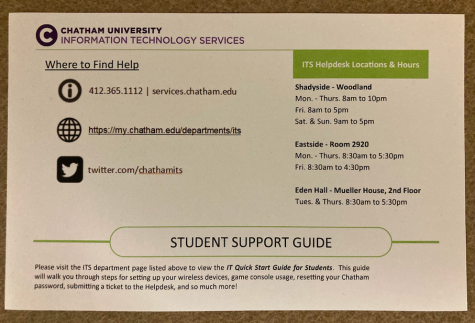 Eventually, Chatham IT contacted STEP CG, an IT solution provider. After several eight-hour calls with an experienced wireless engineer, IT discovered the main issue with the connectivity had to do with how Apple products interacted with the University's wireless access points. 
An access point is a networking hardware device that allows other Wi-Fi devices to connect to a wired network. When it comes to Apple products, they often struggle to roam from one access point to another and stay connected to the access point they were previously connected to. 
As Steinhaus explains it, imagine an access point in a bedroom and a living room of a student apartment. Each access point has equal range. When a student moves from the living room to the bedroom, an Apple device will continue to hold on to the access point in the living room despite there being a much closer access point in the bedroom.
This makes Apple products struggle to roam, unlike a Windows device. To fix this issue, IT went to all 753 wireless access points and adjusted their power levels. 
For example, the power of an access point in the living room would be increased and the access point in the bedroom would be decreased. This allows a device to move between access points and receive better coverage in common spaces.
IT's efforts to fix the Wi-Fi also included adjusting internal security, moving devices to a second authentication server and turning off a wireless protocol that was flooding the network with traffic.  
Since making these adjustments in early October, IT has not received many tickets regarding connectivity issues and believes the main problem is solved. 
The toll on campus community, IT student workers
Both students and faculty have expressed frustration and confusion over Chatham's Wi-Fi. Many struggled to complete online assignments or attend classes over Zoom when they could not connect to the Wi-Fi while on campus. 
Shieli Paris, a student worker at the IT Helpdesk, believes that she and her coworkers received the brunt of people's stress and frustrations with the connectivity issues. 
"I remember taking a call once and a student was frustrated because their Wi-Fi wasn't working on the one network that we had," she said. "They had a deadline to meet … and we were unable to successfully connect them due to the campus-wide issue, and it resulted in them just being frustrated, and kind of getting upset, and then just hanging up the phone."
While she enjoys her job and sees it as a good way to give back to her fellow students, Paris hopes everyone can work through future technology issues with patience and kindness. 
"The same that we give to [the student body], like our patience and our willingness to try to solve the problem,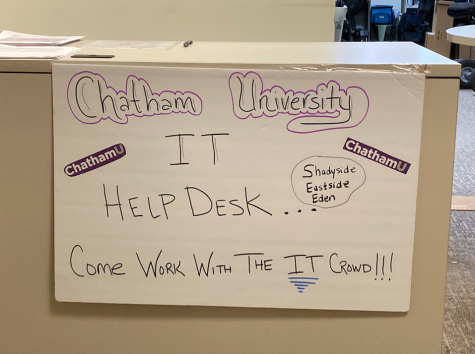 I just think we [can] ask the same of them," Paris said. 
Steinhaus understands the ordeal was "extremely frustrating" for IT and the rest of the campus community. 
"[Chatham] students have been fantastic," Steinhaus said. "They've been extremely patient. They've been very understanding. The faculty have also been really great."
IT will continue to improve infrastructure, monitor network
The process of fixing the connectivity issues on campus caused IT to go through every component of its network, and Steinhaus wants everyone to know that IT's work isn't done. 
IT's recent efforts to fix the connectivity issues also included adjusting internal security, moving devices to a second radius server and turning off a wireless protocol that was flooding the network with traffic.
IT now plans to build back internal security, reinstate its first radius server and continue to monitor the wireless network. The department has also been improving its infrastructure for the last two years and plans to continue those developments.  
If students or faculty have future problems with connecting to the Wi-Fi — or experience other technical issues — IT encourages campus members to submit a ticket to the Helpdesk.