Globally Green Event highlights Chatham's study abroad programs
The Globally Green Event on Nov. 11 shed light on study-abroad opportunities provided at Chatham University as well as sustainable practices in our global and local communities.
The event, which was put on by Isabel Smith '23 and Mikaela Lane '22, was part of the requirements for Vira I Heinz Program for Women, Non-Binary and Transgender Leaders,
a program that offers students the opportunity for global experiences, leadership development, and community service.
Lane, who studied in Florence, Italy, shared what she learned about Italy's sustainable practices and the country's waste management systems.
"Their waste system is very organized and always accessible," she said, explaining that recycling, trash and composting was always easy to find and packaging of products was kept to a minimum.
 Smith, who completed an internship with the Arab Group for the Protection of Nature (APN) in Aman, Jordan, spoke about the tree restoration projects and the work being done to combat climate change in the region.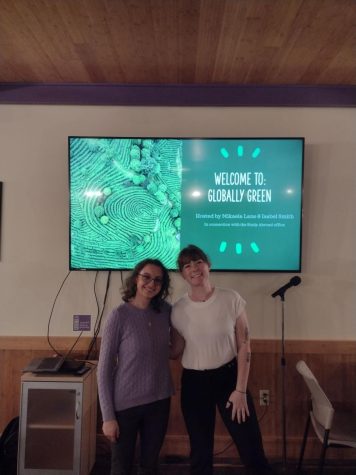 Other speakers featured at the event were Dr. Nadine Lehrer of the Food Studies program at Eden Hall campus, Dr. Alice Julier from the Center for Regional Agriculture, Food and Transformation at Chatham (CRAFT) and representatives for Chatham University's chapter of the Society for Ecological Restoration, Siera Bierker '23 and Frances Hurst-Brubaker '23.
Sharing their experiences with studying abroad, Lane and Smith were excited to talk about everything they learned from their time abroad. Both stated that the experiences increased their self-confidence.
"I learned a lot about what it means to be a solo female traveler," said Lane. 
Smith shared that the experience "didn't change who I was but reminded me of the best parts of me."
When asked what tips they would give to fellow students interested in going abroad, they both talked about the importance of planning ahead, having an open mind, and remaining flexible.
"Pack light," said Lane, "leave room for things that you may want to bring back."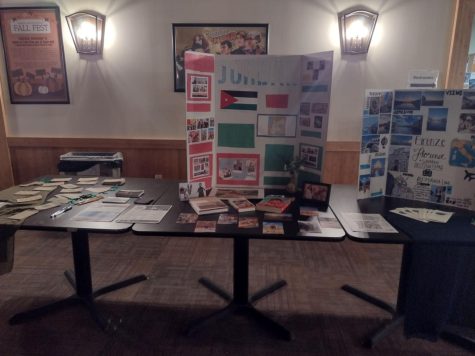 Students who are interested in learning more about study abroad opportunities at Chatham can reach out to Study Abroad Coordinator, Karin Chipman, at [email protected] or check out the Office of International Affairs' blog, which contains information regarding programs, student experiences, and upcoming events.