Don't be chai: Student uses Instagram to encourage others to 'take time for yourself' – and for tea
Recently, students have been using social media not just to reach an audience but also to interact with their city and connect with themselves.
Emma Griffith '25 is the person behind the Instagram account @emmadrinkschai — a passion project where she reviews chai lattes from venues around the Pittsburgh area. We met – and ordered two chais of course – at The 61c Cafe in Squirrel Hill for a conversation about her area of expertise and delving into personal enjoyment.
---
CL: For those who may not be familiar, introduce us to your Instagram account. When and how did you start @emmadrinkschai?
EG: I don't remember exactly when I started the account — sometime last school year — and I just kind of did it out of boredom because I drink a lot of chai. It's one of [a few] specific things that I get everywhere. I thought people would be interested to know what is good and what is not as good, what is worth the price. Chai is expensive.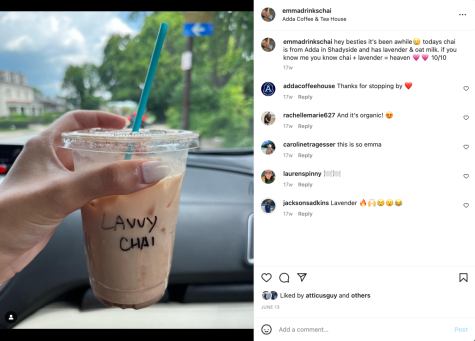 CL: Were you inspired by other accounts? Maybe accounts friends ran, or other things you've seen online?
EG: I was more inspired by TikToks that people were making where they review things, but I wanted to write how I felt rather than talk about it. I didn't start [@emmadrinkschai] with the intention of anyone following it, I just made it for myself.
CL: Who has your audience become? Do you share an interest in chai with your friends?
EG: Yes, my best friends, Lauren [Spindler '25], who we all call Spinny, and Hailey [Maser '25]. They are my two roommates and we all love chai. Our favorite spot is Jitters on Walnut —
CL: I love that place.
EG: — because they will put lavender in the chai, which I love. That's my thing. That's our spot. We like to do that together.
CL: What have you learned about Pittsburgh through the lens of @emmadrinkschai or in general?
EG: The more organic types of cafes serve better but more expensive chai. I don't know if that's [exclusive to] Pittsburgh. Cafes in Pittsburgh do like chai. I don't know if it has always been that way.
CL: Tell me about a memorable chai experience. Which chai is currently your favorite? Which cafes do you recommend? Any places to avoid?
EG: Obviously my favorite is from Jitters— 
CL: [The baristas] are so nice there.
EG: —They are the nicest people ever, all of the workers are so kind. Last time I was there, the person in front of me ordered a dirty chai, which is chai with [a shot of espresso], and I thought, "I'm not a coffee girl, but I really want to try it." It was so good.
Before I tried Jitters, Coffee Tree Roasters was my spot. I went recently when Jitters was closed and it was not good!
CL: I saw that on your Instagram. That's so disappointing.
EG: It was! I don't know what happened there.
CL: If you had to start another review account, what would you want to focus on?
EG: I have thought about this before. I don't think I would do it just because it is such a weird, niche thing but every time I get breakfast, I [order] eggs Benedict. I think I'm a pretty good judge.
CL: My last question, where do you hope @emmadrinkschai takes you? Is there anything you're looking forward to? 
EG: I don't really see it being anything beyond being for my own personal enjoyment. It is a fun little outlet, though. I enjoy posting [on the page]. Most of the people that follow it are just friends and family, but there are people that [happen to] find it and like it. That's great. If I can post something that makes people go out and try something new, that would be great. 
---
Take time for yourself, try new things, and follow your personal compass, urges Griffith. She gave the chai latte at The 61c Cafe a "solid seven out of 10."
Interested students can connect with Griffith's account on Instagram.