Lightning Rod: New 'Local House' redefines house shows
The Pittsburgh music scene is home to a multitude of venues. From abandoned buildings to college student residences, one venue is nothing like another. It seems that every season a new venue pops up out of nowhere, and this year is no exception. 
Situated in South Oakland, Local House is a new venue that has recently started hosting shows and parties. The group came together in the summer of 2022 when Gracie Seymour and Piper Toto decided to build a bar in their backyard. Soon after, the two built a stage so that their friend's band could play a show.
"We hadn't really planned on doing anything more than that, but with so many local bands it was an easy decision to expand the whole venue into something more." Toto said.
After that first show, their next door neighbors, referred to by Seymour and Toto as 322, grew interested in making use of the backyard space.  
Toto adds, "Some of the boys [at 322] were already interested in the local music scene and insisted that turning our house into a venue could be something special."
They threw their first beach-themed party on July 31 of last year with musical guest D!onysus. The show was a smash hit and opened the doors for more local groups to come perform.
For those of us that do not host concerts out of our backyards, it is hard to imagine the amount of work it takes to put on a show, especially considering there is now a full lighting and sound system at the venue. But Local House runs a tight ship, and it shows with their dedication. Each show takes about eight people, excluding the musicians, to make it happen. The group insists on open communication throughout this process.
"It really helps that we all value each other's opinions and it's so enjoyable to work with each other. No matter how much work it takes, there's always a point during the night where you look around and just feel proud of the atmosphere we've created" said Toto.
Compared to the rest of the surrounding scene, Local House is very new. They aim to create a lighthearted atmosphere for everyone involved and they want it to feel like the guests are invited to their home.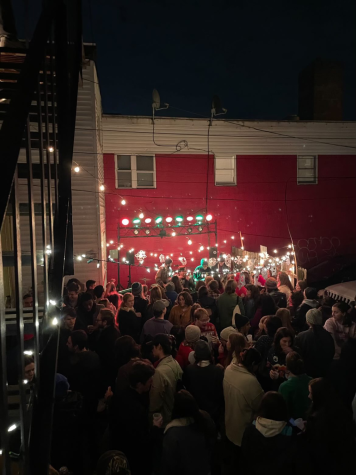 Since their first show, Local House has hosted bands Lost and Found, Wild Blue Yonder, Legacy, The Mudfish and Funky Lamp. Every show is a party in one way or another and there's always a theme that draws people in.
Of the South Oakland venues, outdoor shows are starting to grow in popularity. Eli Alfieri, guitarist for Wild Blue Yonder, shared his thoughts on Local House.
"Most live music still takes place indoors so any time you get to play outside it's really special because it's more conducive to a larger crowd. The lights on stage and above the crowd plus the fire pit also give Local House a unique aesthetic that curates a comfortable vibe to perform under."
Wandering through the streets of South Oakland can lead you to a lot of places and Local House is definitely somewhere you want to be. This new venue is shaping up to be quite a successful host.
You can follow Local House on Instagram here: