Neurodivergent space offered at Chatham Eastside
Throughout the summer 2022 term, the Interior Architecture program designed and installed The Third Place a neurodivergent student lounge. According to the Office of Academic and Accessibility Resources (OARR), neurodivergence is defined as differing in mental or neurological function that is considered typical or normal. Dr. Maureen Monhollen, assistant professor of Interior Architecture, discussed the creation of the lounge at Chatham Eastside. 
She created the space after noticing an increase of students needing mental-health-related accommodations during and after COVID-19. 
The  IAR program created The Third Place to function as a safe space for students. Inspired by local respite areas like Presley's Place at the Pittsburgh International Airport, the multi-functional space offers many features like a reading area for IAR students.
In the reading area, there are two isolated desks and with rocking chairs and trade journals. If they want to decompress, there is a puzzle table, which Dr. Monhollen described as the most popular feature in the space. 
"I furnished one puzzle, and before long, there were about five more puzzles the students had brought in to share," she said. 
Other features include a stress wall with bubble wrap for students to pop, and there are color-changing task lighting for mental ease or stimulation.
Dr. Monhollen explained that the reason only IAR students can currently access the space is that it is located within the department's area. 
"This may seem exclusive when there is such a great need for mental health support," she said. "But the space is simply not large enough to service all [students'] needs." 
Mykenzie Connally '23, who has a dual diagnosis of ADHD and Generalized Anxiety Disorder (GAD), discussed their neurodivergence and accommodations at Shadyside Campus. 
"I know a lot of neurodivergent people struggle with overstimulation [and] need a dedicated space for schoolwork," they said.
Jordan Sapp '23 thinks there were inadequate accommodations for neurodivergent students at Chatham based on her personal experience.
Sapp believes that the academic accommodations were a complicated process that it may intimidate some students rather than helps them.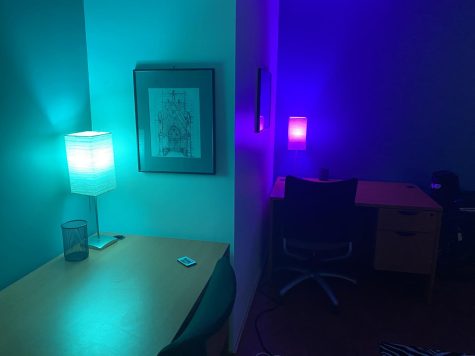 Connally expressed a similar sentiment and added that "the [accountability] space is more accessible than formal accommodations." 
Dr. Monhollen recognizes the need for improvements to neurodivergent accessibility for the Chatham community. She noted that her personal research agenda is to assess the needs of neurodivergent students and faculty no matter where they spend most of their time on campus. 
Once this is accomplished, she wants to identify available areas to then design and install supportive spaces across Chatham's three locations. 
"I strongly believe that there should be supportive environments within all campus settings. When a student is under duress, they shouldn't have to take a shuttle to find a safe place to go," she said.
Only students who have classes at Chatham Eastside and have access to the building can access the neurodivergent space.
For information and support regarding student accommodations, contact OAAR at [email protected] or visit the office on the third floor of the Jennie King Mellon (JKM) Library.