CSG Brief: Talk of big issues, elections in April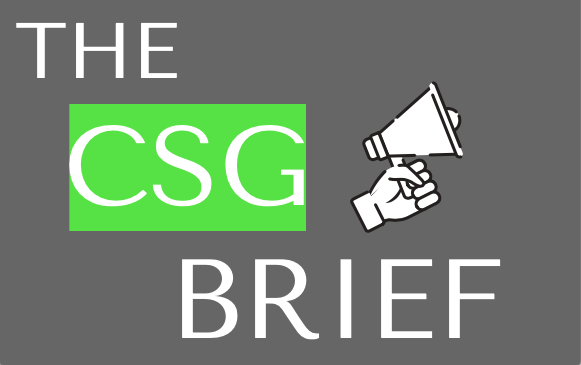 This CSG Brief will cover information on the Senate meetings on March 11, 18, 25 and April 1. CSG Briefs are intended to summarize the most relevant information from student government meetings. If a meeting is not covered in a Brief, students can access the meeting minutes on the CSG website. 
CSG elections
Elections for all CSG positions began April 7 and students can vote on Brightspace until noon on April 9. All students, including seniors, have the opportunity to vote for the Executive Board positions and the class positions. To do so, students should go to Brightspace and select the class called CSG Elections. 
Students running for positions include: 
Executive Board
Class of 2022
Class 2023
Class 2024

Executive President

:

President

:

President

:

President

:

Executive Vice President: 

Vice President

:

Vice President

:

Vice President

:

Vice President of Finance:

Secretary

:

Secretary

:

Secretary

:

Vice President of Communications:

Treasurer

:

Treasurer

:

Treasurer

:

Vice President of Diversity and Inclusion:

Representative (1)

:

Representative (1)

:

Representative (1)

:

Representative (2)

:

Representative (2)

:

Representative (2)

:
Not many students filed to run for positions, leaving the election with little competition. "It is common for few people to file to run for CSG, as many will run as write-ins if they aren't sure what position they want to run for by the filing date deadline," said Mars Touloumes '21, current Executive President of CSG. 
Student voters always have the option to write in a candidate for any position they are eligible for if they do not want to vote for the student who filed to run for the position. 
"The person who fills the position will be based on write-ins or whoever gets the most nominations and accepts the position. Sometimes multiple people will be nominated and so it would first go by the most votes and then by if they accept it or not. Anyone can be nominated within the class for class positions, and anyone who is an undergrad student can be nominated for the [Executive board] positions," said Touloumes. 
Any questions about the election should be sent to Heather Black ([email protected]) and if students have issues with voting on Brightspace they should contact Amanda Oaks ([email protected]). 
Internship requirement concerns
CSG members discussed student concerns around the internship requirement that was recently reported on by the Communiqué. The article spoke about how the internship requirement to graduate at Chatham may promote inequalities, especially for students who struggle financially. 
While the University has recently created two scholarships to help students with the internship requirement, CSG members were still concerned that students may struggle when needing to complete the requirement. Members are currently speaking with University departments to get a better idea about how they can eliminate the inequality that may be caused due to the internship requirement. In recent discussion, they hope to invite a guest speaker to a Senate meeting in the future. 
Maintenance and public safety concerns 
Students report that they have had bad experiences with Maintenance and Facilities showing up unexpectedly to student dorms. CSG members, like Chelsea Hagan '23, shared personal experiences where they felt uncomfortable with not being warned about when workers would come by, hoping that the University would improve communications with students. 
There was also debate on what counts as an emergency and should be handled by public safety compared to issues for facilities. CSG members are now in contact with Chief of Public Safety Valerie Townsend and Director of Residence Life Shawn Mcquillan-Krepps to clarify these questions and how to improve the issue. 
Students with maintenance and safety concerns can contact their class representatives or Hannah Perry '23  ([email protected]) and Chelsea Hagan '23 ([email protected]) who are both members of the safety committee.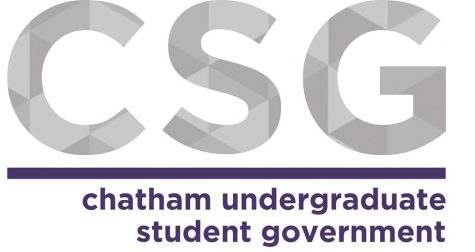 Class projects and recent officer reports
Vice President of Finances: Guillermo Van Wyke 
After a meeting with Walter Fowler, Vice President of Finance and Administration, CSG was given information on Chatham's financial status.
Vice President of Communications: Addakin Thomas
The next Communications and Engagement meeting will be held on April 12 at 11 a.m. All students and student organizations are welcome and should contact Addakin Thomas ([email protected] ) for more information. 
Vice President of Diversity and Inclusion: Lalah C. Williams
The assistant to the Diversity, Equity & Inclusion office will start in May. Also this month, the University is asking students to complete the "Harm Assessment for Reduction and Prevention" (HARP) research survey. More information on the study can be found on the HARP Instagram account. 
Executive President: Mars Touloumes
Chatham applied to be a vaccine clinic and is currently waiting for approval. In the meeting with President Finegold, he expressed his worry that students are gathering too close without masks on. Students should be encouraged to socially distance themselves and wear masks to slow the spread of COVID-19. This concern may be supported by a spike in positive covid tests in mid-March, which was brought to the attention of CSG members by Dean Black. 
Class of 2021 
Students can now donate to the senior gift. The class continues to work on their senior project, a video bringing awareness to gender identity and pronouns. 
Class of 2022
The junior class is helping put together the senior gift that can be collected at commencement. They are also continuing to work on their project to add to the SDE curriculum with the Class of 2023. 
Class of 2023 
The sophomore class is close to securing a partnership between the Children's Institute of Pittsburgh and Chatham University. They hope to plan a "Children's Day" where Chatham students could act as chaperones for children during the Institute's Special Olympics event. They also want to invite the children from the institute to a Chatham sports game. 
Class of 2024 
The class continues to work on their project to provide free sanitary products in all Chatham bathrooms.