Vegan Crawl: Cross-contamination complicates dining at Lotsa Pizza in Oakland
Lotsa is no competition for other Pittsburgh vegan pizza places we've tried.
This semester, the Communiqué scouted the city to find some of the best spots for vegan food. Here's the latest installment in the series.
***
In the heart of Oakland is a build-your-own pizza shop called Lotsa Stone Fired Pizza.
We were originally attracted to it because we frequent a similar pizza shop in Robinson known as Blaze Pizza. Since Oakland is a bit closer to Chatham University's Shadyside campus, we were hoping to feed our pizza cravings without the long travel.
Upon arrival, we couldn't help but notice how popular the location was at 3621 Forbes Ave. The sidewalk traffic was extreme, but we felt like we were in an entirely different area once we entered the restaurant.
The shop was dead for a weekend, but our hopes were still high because the website made promises of fresh veggies and vegan cheese.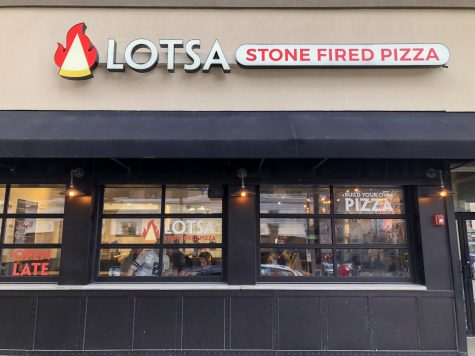 Even though there wasn't a line, it took the employees about 10 minutes to take our orders. When one of the three employees finally noticed us, we were able to start building our personal pizzas.
We both ordered the traditional dough with classic red sauce. Even though vegan cheese was available, we opted out because it stood uncovered among the other cheeses. We didn't want to risk contamination.
Next, we moved onto the veggies. Juliette ordered one with black olives, banana peppers, mushrooms, chopped garlic and cherry tomatoes, while Jesse went with green peppers, banana peppers, mushrooms, tomatoes and chopped garlic. We topped them off with oregano, fresh basil, salt, pepper, garlic powder and red pepper flakes.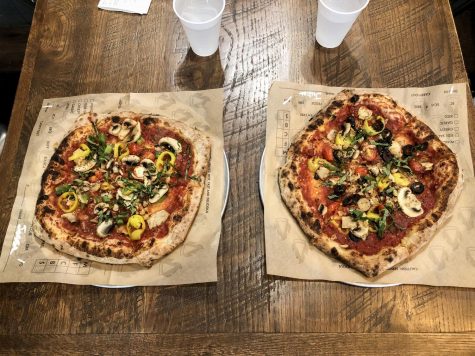 Then, we waited while our pizzas cooked in the fire. Juliette noticed the cutter that the employees were using to slice the pizzas was smothered in meat and cheese, so we asked them to use a clean pizza cutter. Thankfully, they agreed to our request.
In terms of pricing, Lotsa's pizzas were about the same as Blaze, turning out to be about $9 per pizza. Lotsa's pizzas, however, were adequate when compared to the ones at Blaze. The sauce is more flavorful. Plus, covers all food items behind the counter and offers more vegan options, including plant-based cheeses, meats and a wider array of veggies.
We recommend Lotsa for anyone looking for a quick pizza fix, but we're going to stick with Blaze for its better quality.
For more information, check out Lotsa's website at lotsa.com or call 412-727-8000.